Product Description
Factory new Remington Competition Master Carrier with Extended Carrier Release. Makes loading your 12ga 1100 or 11-87 the same as loading an 870 as the tip of the shell engages the Extended Carrier release button. A must on competition guns or defense guns. This is the Carrier that comes on the 11-87 Police and 1100 Tactical fits all 12ga 1100 and 11-87's. Easy install. On my Web site www.aiptactical.com is a "How to Video" showing how to install this part. Here is a Link. https://youtu.be/6oNtsLfAlg8
If you have an older gun it is a good time to replace the carrier latch spring while you are there so use the drop down box to select the Tactical Carrier with carrier latch spring. Use the drop down box where it says Tactical Carrier to purchase the Tactical carrier with Spring.
If you are not comfortable installing this then you can send me your trigger plate assembly and I will install it no charge. However only if it is a cast metal one, I will do it for the Polymer one but look at the picture below and you can. Check out on the store and call or e-mail me that you are sending your trigger plate assembly. Cast metal trigger plate assemblies only. I will hold you order till the trigger plate gets here and I install it, then ship it to you. You can pay me for the work (about 3 minutes worth for me as I do so many) by telling three people about this store.
THIS DOES NOT WORK ON THE POLYMER TRIGGER PLATE ASSEMBLIES UNLESS YOU CUT OUT A NOTCH IN THE CARRIER TO GO OVER THE HAMMER PIN WASHER. EASY TO DO WITH A DREMIL AND A COUPLE MINUTES TIME.
HERE IS A PICTURES HOW TO MODIFY IT. THE BOTTOM ONE IS THE ONE FOR THE POLYMER TRIGGER PLATE ASSEMBLY. THE TOP ONE IS THE EXTENDED TACTICAL MODIFIED TO FIT A POLYMER TRIGGER PLATE ASSEMBLY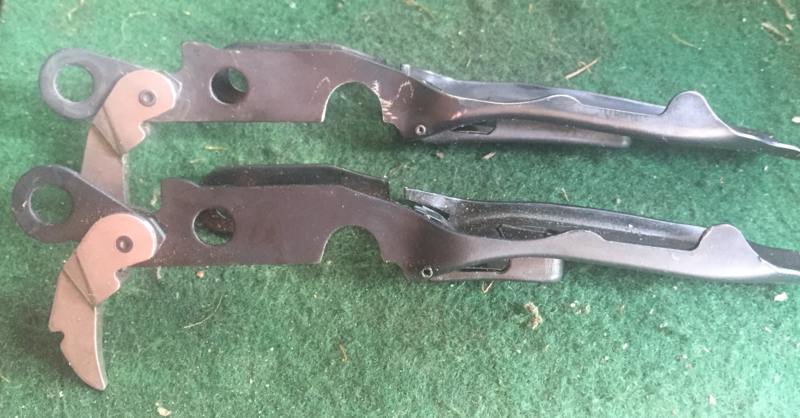 Remington Shotgun Parts for Remington 1100 Remington 11-87
Other Details
Manufacturers warranty applies
Product Videos
Custom Field
Product Reviews
if I need these again in the future, will get them from you.